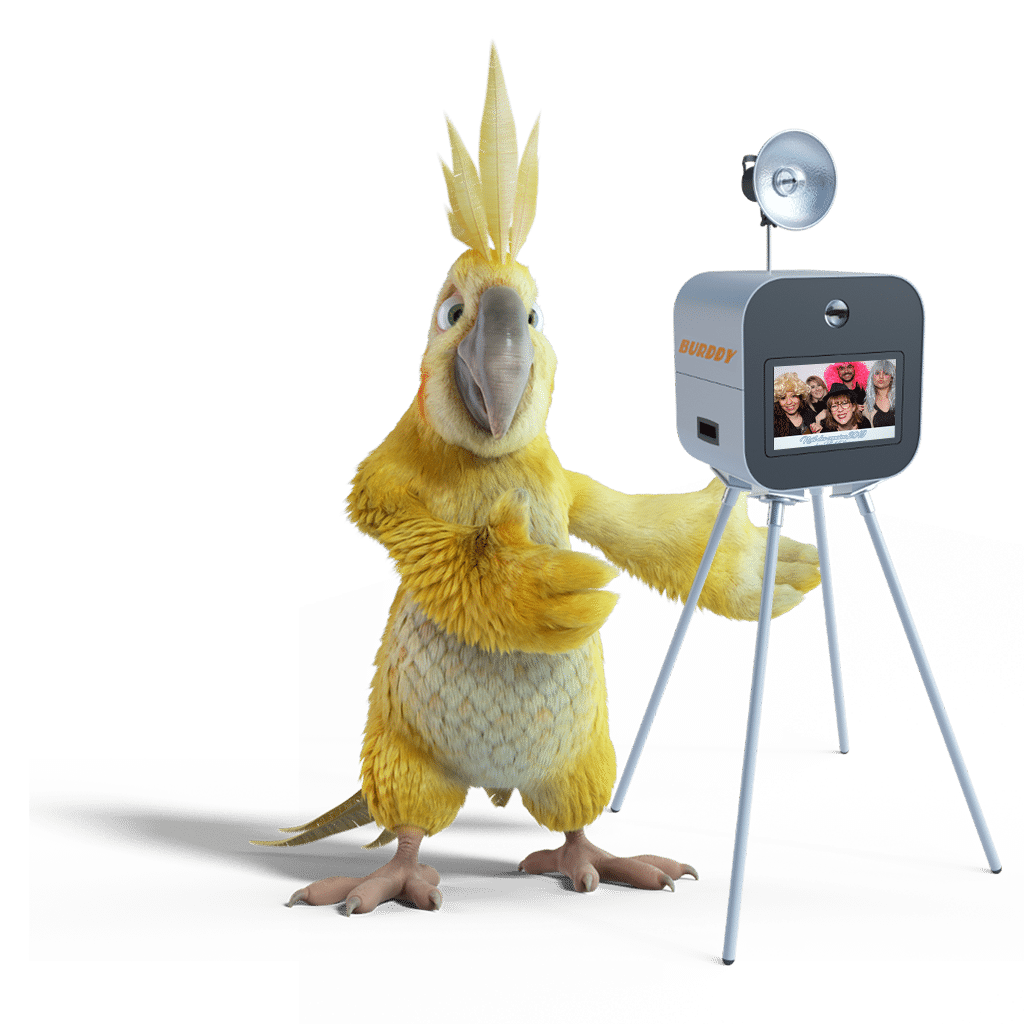 BURDDY, the photobooth
for all your events!
Your photobooth from 128€!
With Burddy, enjoy the photobooth rental from 128€! This very easy to use animation allows you to take selfies, add frames for personalized and original photos, share them on the internet and print them. It will surely delight your guests for a wedding, a birthday party or a fancy dress party. Discover our different packages and enjoy the live instant printing of your photos as in a photo booth and in only 10 seconds. A fun and innovative event animation for unforgettable memories with friends and family!
What does the

photobooth look like?
Professional quality, simplicity and ultra-competitive prices: our photobooth has everything to seduce you! Enjoy exceptional image quality with its 18 million pixel reflex camera and capture your best moments to make them unforgettable. Its aluminium base offers great stability while being lightweight and easy to handle. A compact booth photo that looks great for a wedding party, a bachelorette party, a surprise birthday party or a crazy fancy dress party with friends!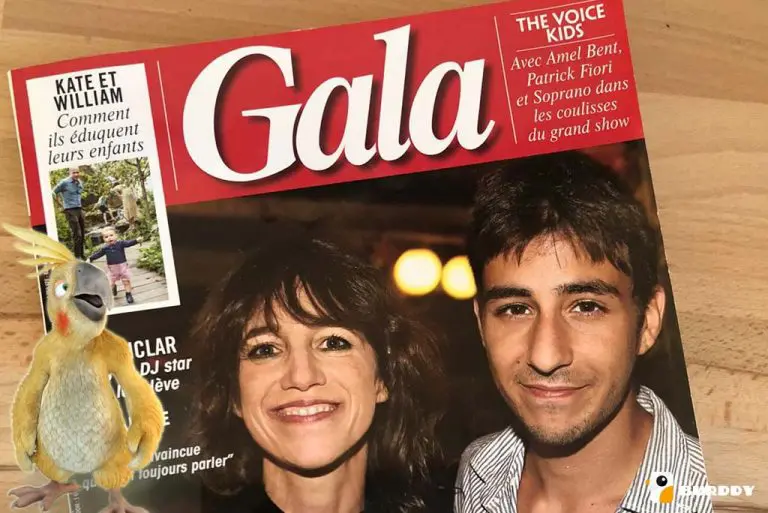 Burddy is showing
in Gala
Did we tell you that Burddy got himself a spot in Gala magazine? Yes, we're not kidding! By the way, if you have a good source for a photo shoot with William and Kate, we're in demand !
The easy and affordable photobooth rental

what packages are offered?
400
prints
(standard size 10X15 and 15x10)
Unlimited sending by e-mail

Up to 800 prints in 5x15 and 15x5 strip format. Possibility to mix the formats when creating the frames.
200
prints
(standard size 10X15 and 15x10)
Unlimited sending by e-mail

Up to 400 prints in 5x15 and 15x5 strip format. Possibility to mix the formats when creating the frames.
100% digital
package
Unlimited digital shots
without instant prints
Unlimited sending by e-mail

This package does not include instant printing.
Several photo printing packages are available. They will allow you to print your prints in one or several copies live from the photo terminal in about ten seconds. Your guests will then be able to leave with a souvenir, as they would do with a polaroid camera. The photobooth is usable from delivery to return (whether your event lasts one day or a full weekend), so you are not limited by time and can use it as much as you want.
You don't want to take advantage of the instant printing during your event? No problem! The 100% digital package is made for you. You'll enjoy the same advantages as the packages that offer prints: free time of use, customizable frames, live e-mailing of photos if the photo box is connected to wifi (offline if not), secure online gallery. A turnkey package from 128€ for a memorable evening event! We love to please you at Burddy 🙂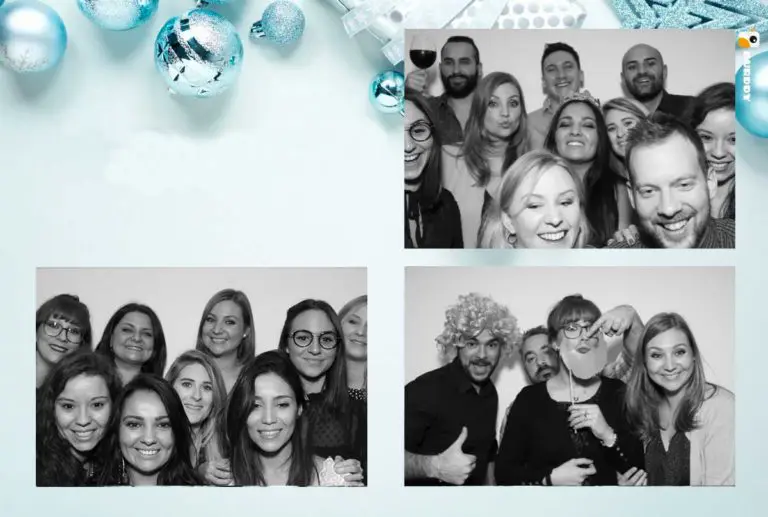 I wanted to test the Burddy photo booth for our Christmas with friends and it was great! The box is easy to set up and the interface is really simple to use. I was able to create a custom frame by downloading the template. The animation was a success and my friends had a blast!
Delivery and returns

of the photo terminal
With Burddy, you don't have to drive anywhere to pick up and return your photo booth. Our driver delivers it on Thursday or Friday and picks it up the following Monday or Tuesday (depending on the most efficient delivery rounds) at the address of your choice. Only the super-easy set-up and take-down are not included in the offers.
We currently offer photobooth rental in a large part of the Netherlands: Zeeland, North Brabant, Limburg, South Holland, Utrecht, part of North Holland (up to Amsterdam) and part of Gelderland (up to Amersfoort and Arnhem).
To see if your address qualifies, you can use our online tool. If your city is outside our delivery zone, it may be a solution to have it delivered to friends and family, or at work. You can easily move the Burddy with any car.
Manage your photobooth rental
One week before your event, you will receive an email informing you of the day and time slot of our delivery man, at the address given at the time of your reservation. Then the d-day, an sms with the exact estimated time. In an ecological concern, we make sure to optimize the tours according to the zones to be delivered. It is therefore not possible to modify this schedule.
For more details on the delivery and return of the terminal (change of address…) you can consult the dedicated page.
Frame customization

for memories in your own image
Take advantage of the custom frames included in each of our offers. Thanks to our online tool, you will be able to create and select up to 16 different frames for your party or celebration. Your guests will then be able to move from one frame to another to vary the pleasures, from the touch screen. We offer you several formats for your prints, which you can create in many versions and layouts from the personalization tool.
Note that the packages with instant prints indicate the maximum number of photos you can print in 15×10 or 10×15 format (classic photo format). By printing strips prints in 15×5 or 5×15, you will double the number of possible prints. You will be able to mix these different formats when creating your frames.
e.g: With a 200 prints package, I will be able to print 200 photos in the classic 10×15 and 15×10 format (portrait and landscape), and/or up to 400 prints in the 5×15 and 15×5 strip format (vertical and horizontal strips).
Examples of custom frames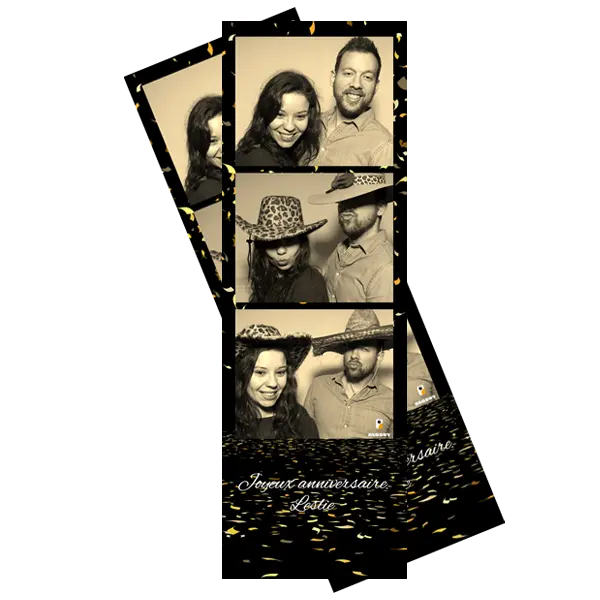 I rented a photobooth for my birthday and the animation was great! Thanks to your team for all the information (I'm not an easy customer :p) My friends loved it and everyone left with great memories!
FAQ

Frequently Asked Questions
You will find on this page the frequently asked questions by customers when renting the photobooth: recommended times for booking the photo box, deposit, delivery date and times, proposed packages, customization … Do not hesitate to consult them in order to get a quick answer to your questions.
Lots of ideas with the latest articles