The big day is coming and you are looking for unusual ideas for your photo animation? Or maybe you've decided to organize a surprise evening for a friend and want to keep some wonderful memories? Decoration ideas, choice of service providers and equipment, practical advice, we give you all the tips for sensational birthday photos!
Photo animation: for fun birthday photos
What is the point of organizing a photo animation for your birthday, at a time when the smartphone is king and when we share the slightest moment of our lives on social networks with our friends and family? Indeed, today's phones have largely equalled or even surpassed our good old cameras of the time, and we are no longer likely to run out of film by taking a series of shots. But a virtual photo gallery will never have as much charm as a pretty box of photographs. We all remember an old trunk from a closet or attic, filled with snapshots of life captured forever on paper. These birthday photos of our youth with our school friends, these memories of trips that amazed us as children, or these family celebrations surrounded by the people we love most.
At a time when we are looking to dematerialize as much as possible, to keep everything on a hard disk, USB key or cloud, to exchange on Instagram, Facebook or Snapchat, we find a real pleasure to own again physical objects, sometimes vintage such as a vinyl player, a cassette player (the famous walkman!) or an old piece of furniture to restore. The old one is popular and the fashions that are made and undone always end up coming back! Photos are not to be outdone, as evidenced by the many companies that share the online printing market. We like to display some memories of holidays on a wall, or evenings with friends in beautifully arranged frames on a shelf. So this year it's decided! We organize an animation for unforgettable birthday photos.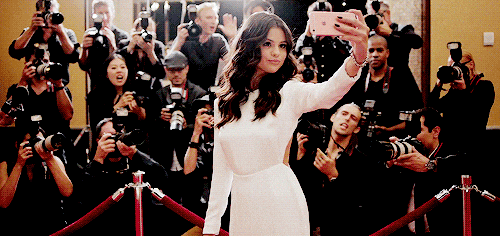 Because yes! You are fantastic and you deserve it 😊
Retro birthday pictures with a polaroid
Born in 1948, polaroid enjoyed its heyday in the 1970s before gradually disappearing with the advent of digital technology in the 2000s. In 2010, a dozen former Polaroid employees launched a rebirth operation, The Impossible Project, with the crazy challenge of reviving the brand. The instant snapshot has not yet had its last word and is finally becoming trendy again, with success both among nostalgic followers and among the younger generation, who are always fond of the "right away". Its easy use and the charm of photos on paper have won everyone over. A simple press on the shutter release button and the picture comes out instantly. Successful? Not successful? Suspense… The result appears after a few seconds, revealing the shapes and colours on the paper.
Although it is still possible to buy old used polaroids, new, more sophisticated models have appeared on the market and several brands are doing well. This is the case of Fujifilm and its Instax range, which offers several models that differ in terms of available photo formats or shooting modes. Expect an investment of 80€ for the device and film packs around 15€. For original birthday photos, plan a dedicated photo area where you will provide your guests with one or more cameras, blank films and accessories. Some companies offer to rent this type of equipment, which is often cheaper than a purchase. Finally, leave a guestbook nearby where people can stick pictures and write a short message, with stickers to make it even more interesting.
How about renting a photobooth?
Photobooth has become very popular in recent years. They are often found at weddings, offering guests the opportunity to have their portrait taken and to leave with a souvenir of the evening. Whether we call it photobooth, photo booth, photo box, selfie box or photo terminal, it is generally the same process. A camera integrated into a terminal, a touch screen to control everything and an instant printer to retrieve the pictures live. The use is very easy and the guests are certainly delighted! Many models of photo kiosks are available for rent, with prices ranging from 300€ to more than 1000€ depending on the services chosen. Some companies allow you to customize the machine, or create custom frames, for unique birthday photos in the colors of your theme.
Several parameters must be taken into account when making your choice. How much space will you need for the installation? Is delivery and return included in the price? Does the company handle the transport itself or are they subcontractors? Does the rental price provide for a limited period of use (example: 24 hours) or can you use the terminal as much as you like? How many draws are included in your package? For example, 200 prints correspond approximately to a continuous use of 4 hours of the device. Can you customize and create multiple frames? Is the machine easy to use? Is a flash provided? How to retrieve the photos after the event? So many questions to ask yourself to avoid unpleasant surprises at the time of the reception of the machine or during the evening.
Create your decor and amaze the view
Many animation ideas are possible, whether it is to provide a polaroid camera, to use a professional photographer or to set up a photobooth space. The ideal is to provide a space dedicated to your entertainment, a corner of the room large enough to accommodate the equipment and several people, or a separate room if you have the possibility depending on the configuration of the place. Your guests should be able to move around easily and come and take pictures of themselves without disturbing each other. Planning a corner a little far away is conducive to more crazy photos (it's easier to let go hidden from view!) Let your guests' creative genius express itself freely, your birthday photos will only be more fun! Keep an eye on the equipment (or have someone do it from time to time) and do not leave children around unattended. Indeed, they often have a great time (we understand them!) and you may run out of film sooner than expected.
Another key element for a successful photo animation is to provide your guests with an original decor and a multitude of accessories. Imagine a space decorated in the colours and theme of your evening: 80s or 90s party, beach party, Grease, black and white, Cannes festival, hippies, bohemian chic or super heroes… With a little imagination and a minimum investment, it is possible to design a very classy photo corner. Old furniture or an old sofa? Set up a cosy and warm retro lounge. Pallets at your disposal? Make a wooden background with flowers and veils! A simple white sheet big enough can do the job. All you have to do is decorate it with balloons or other festive elements to obtain a pretty background for your photobooth. Take a look at Instagram or Pinterest and you will easily find dozens of decorative ideas that are often easy to implement at home, even for a Sunday handyman. Also look for photocall models (the name given to the backgrounds used in this type of animation), some sites offer a tailor-made solution. At the same time, there are many examples of frames that are funnier than each other and will certainly amuse your loved ones.
Mustaches, glasses... Think of the accessories!
Essential for the success of your photo animation, the accessories will add a touch of madness and lots of smiles to your birthday shots! And let's just say there's a choice! You will find on the canvas countless shops offering accessories in all themes: wigs, hats, moustaches, XXL glasses, pulpy mouths, superhero kits, packs for exotic parties… we find everything and from a few euros. However, be careful with quality! The accessories will pass from hand to hand, especially those of children who could be a little abrupt (adults too!). It would be a shame if you ended up with a nice torn beard or a crushed top hat when the evening is just beginning!
If the motivation takes you, you can of course start a homemade production. Kids love it, grown-ups love it, and it's a great opportunity to get out pencils, markers, Canson paper and other sticky glitter. For the equipment, go to the bookshop or to the specialized stores offering manual creation departments. Google will also be your friend there, and will find you original and varied models of photobooth accessories. A search for "photobooth diy accessories" will do the trick. Let yourself be seduced by the game, you will thus create custom-made and unique pieces, perfectly adapting to the theme of your event or evening. And for those who doubt their artistic skills, models to download and print are also available.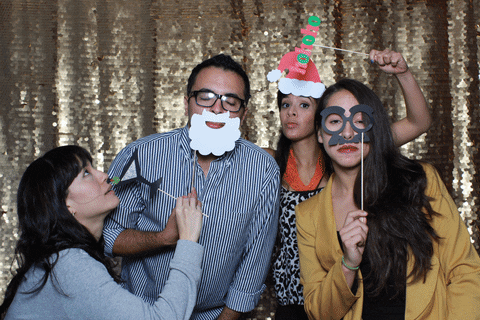 A photobooth, fun accessories and your guests will enjoy your party!
Sharing photos: no more puzzles!
May he or she who has never run after everyone to get the pictures of a party or a birthday party raise his or her hand! Of course, exchange and sharing has never been so simple and fast, whether on social networks, via an email application, by a sharing service like WeTransfer or even the cloud (Dropbox, Google Drive, Microsoft One Drive…) But here we are, we have to think about it, take a few minutes to sort through all the shots, and sometimes shake some to encourage them to share their magnificent achievements with everyone. So it often happens that we don't manage to recover all these memories and that's a shame! However, there are some very practical applications that will allow you to access all your birthday photos without any worries!
One of these applications is called Wedshoots. Although it is originally created for weddings, it is quite possible to use it for a birthday or any other event that is close to your heart. The principle: you create an event and give access to your guests in the application via a code. They can then download the app to their phone, and start taking pictures from the application. They are accessible to everyone, directly in the gallery, and you can enjoy and comment on them. You will keep a memorable memory of your party, through the lens of your guests, and will be able to download the complete album of all your birthday photos once the evening is over. The application is free and can be downloaded from the App Store or Google Play.
For unforgettable birthday photos
All you have to do now is get to work and use your imagination. Don't panic if you lack inspiration and ideas! Surround yourself with creative people with good manual skills, browse social networks and specialized diy blogs (Do It Yourself), take a look at decoration and even furniture stores… Inspire yourself from different trends and above all don't be afraid of ridicule! Your guests will certainly have a great time with your photo animation and leave with memories in their eyes and pockets!
Any other ideas and tips for successful birthday photos? Feel free to share them in comment!
And for crazy birthday photos, discover our photobooths from 99€ (free delivery and return!)