Your child's First Holy Communion is a once in a lifetime celebration, so it's important to ensure that it's done in a way that will be a source of wonderful memories for everyone involved. While the ceremony at the church is usually reserved for close family members, a First Holy Communion party at home afterward is a wonderful way to invite your friends and extended family members to this special event. In order to make sure that the entire event goes by without a problem, it's important to plan ahead and keep some things in mind.
As soon as you have your date, you should begin party planning; especially if there are a number of children in your area who are making First Holy Communion on the same day.
All sorts of suppliers, from bouncy castles to caterers, may need to be booked several days – if not weeks in advance, so set a budget and make a list so that you can start your planning well before time.
A few important items to consider and budget for include:
The number of guests: the event can either be an exclusive one with just close family members or a bigger party with friends, extended family, and classmates.
Catering: Sit down meal or buffet? Will you get the communion party catered or cook at home?
Venue
Invitations
Decorations
Entertainment and activities
Photography
Budgeting is immensely important for all the above decisions, and this list doesn't include the Communion outfit, shoes, accessories, hair, etc. Burdening yourself financially is not necessary when the aim is to give your family a day they will always remember.
The following are a few tips to help you plan an amazing event regardless of the venue choice.
A key factor when deciding where to host the party is determined according to the number of people attending.
The venue should neither be too small, as this will end up creating annoyance and discomfort amongst hosts and guests – nor should it be too big, as this would make the party seem lifeless and lacking a festive environment.
Another important factor to keep in mind is the number of children being invited …since they'll need space for various activities and having fun.
It's vital to decide well before time whether you want the event to take place indoors or outdoors. Given the unpredictable weather, it isn't wise to organize the party to take place solely outdoors with no contingency plan for if …and when it rains.
If you do decide to go for an outdoor party, it is important that you have a covered area set-up in the event of a downpour or you can organize the party in such a manner that all the main elements could be easily moved indoors at the eleventh hour.
Whether you decide to host the party at home or at a restaurant, it's highly recommended that you arrange for a sweet treat buffet.
This will not only create a feast for the eyes – but is sure to delight guests of all ages. Such a buffet can be created with the utmost sophistication.
Whether you decide to decorate it by way of a certain theme, a color scheme, add pictures of the communion child through the years, balloons, and include wide range pastries and sweets, the most vital of all things is the variety and aesthetics of all the sweet treats.
Following are a few examples of the type of goodies you can include:
Jars of retro-styled sweets. These can be easily bought from the old style sweet shops in most cities and towns.
Decorated Cookies
Personalized Chocolates
A unique floral display
Communion cake, which of course would be the event's centerpiece.
Make sure to use delicate treat holders and jars as this will beautifully enhance the aesthetics.
This is one of the key elements to any event and has the effect of turning the event from a simple dinner party into a fun and memorable festive celebration.
Organizing a party that is fun for adults as well as toddlers needs a touch of creativity and imagination, and is sure to make the event a huge success and memorable for all.
During the entertainment opportunities, you can also hand out some souvenirs and gifts which help to mark the occasion.
Following are a few tips for organizing a party that both adults and children can enjoy:-
Do not plan such games and activities for children that need constant adult supervision.
Include activities for all ages where children of different age groups can play with each other at the same time.
Avoid messy games and activities such as painting.
The food choices should be kept simple.
Some entertainment ideas which guests of all ages can thoroughly enjoy include:
A professional magician
A DJ who has music to cater for all age groups and tastes and gets everyone dancing
A karaoke
A juggler
A bouncy castle, especially the ones with an incorporated obstacle course
Retro garden games such as limbo pole, giant Jenga, musical chairs, bean bag toss, and many others
A professional children's entertainer
Whether your party is taking place at home or at some other venue of choice, unique yet simple décorations can be included cost-effectively, thus converting a boring venue into a lovely setting. Simple balloons, table centerpieces, floral arrangements, lanterns, chair covers, pretty table linen, lovely table settings, each and everything would contribute towards further beautifying the venue.
Introducing a Unique Idea
Personalized gifts or goodie bags for each guest is a wonderful token and can include something the communion child has made themselves, for instance, a framed photograph, homemade baked delights, or a personalized bookmark.
The options are endless and it's an amazing idea that the communion child is given as much control as possible over what he or she would like to make as a favor for the people in attendance. This will also make the child feel important and is something they will remember well into the future.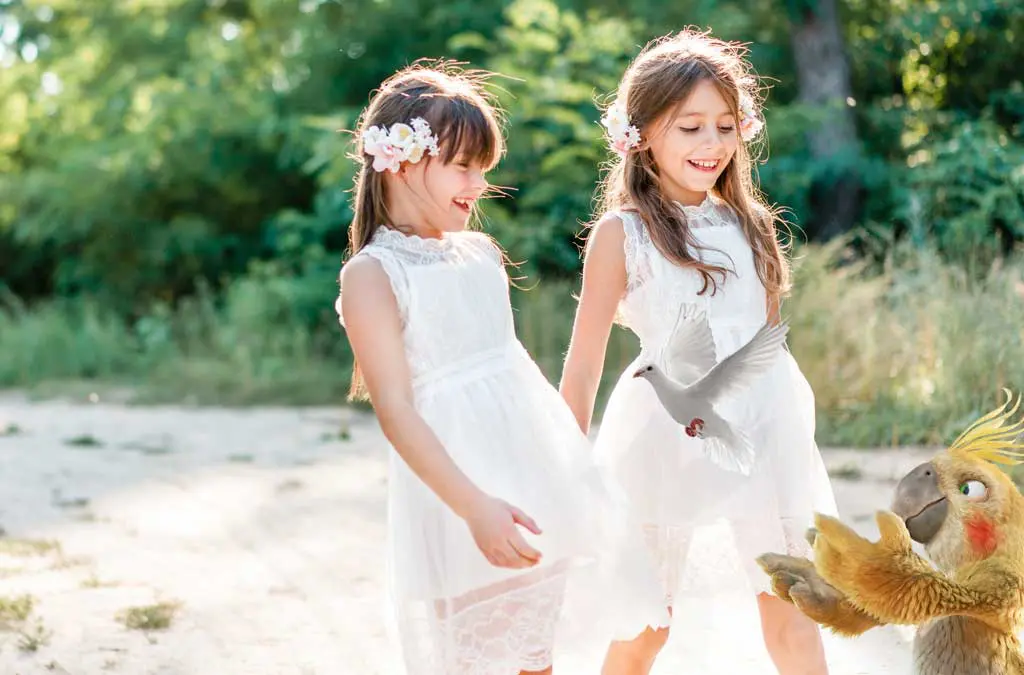 Add a great element of excitement to your guest's event by booking a photobooth. With photobooth you can bring animation highlights to your outfits throughout the day.
In the events world today, arranging for a photobooth kiosk to be at the event is almost now a requirement. Whether it's a company event or a personal event such as a Communion celebration.
One great aspect of a photobooth is that all photos are printed on the spot, so there's no waiting for pictures to be printed or developed – you get them there and then. And what's more, with high-quality photographic technology your photos are of professional quality.
Other guests are able to join in the fun, as all the photos from the event are made available in an online gallery – while the event is still ongoing! Kids at a communion celebration will love this feature.
When you get a camera involved …and some dress-up clothes and accessories to use, it can really create a lively and happy atmosphere for everyone at the event. Whether they're on the photos or just watching them and laughing along!
An easy to operate touchscreen interface
Guests can take pictures independently
Available with several personalized photo frames
Able to print the pictures in under 10 seconds
Filters that can enhance your photos
Humorous on-screen virtual accessories like hats and funny glasses!
We hope, for your communion celebration we've provided you with some great ideas, and enough confidence to go ahead and start planning your special day.